INTERNATIONAL HOCKEY CAMPS WITH OVERNIGHT STAY
THE ULTIMATE HOCKEY EXPERIENCE
Are you ready for your best summer yet? Immerse yourself in a magical world full with hockey. You'll literally sleep next to the hockey pitch at the most beautiful hockey clubs of Europe. You'll get high level training from our international top coaches, where we challenge you to put your skills to the test. At the end of the week, you'll head home with new skills and new memories that will last a lifetime.
MORE INFORAMTION

Get ready for your best summer ever!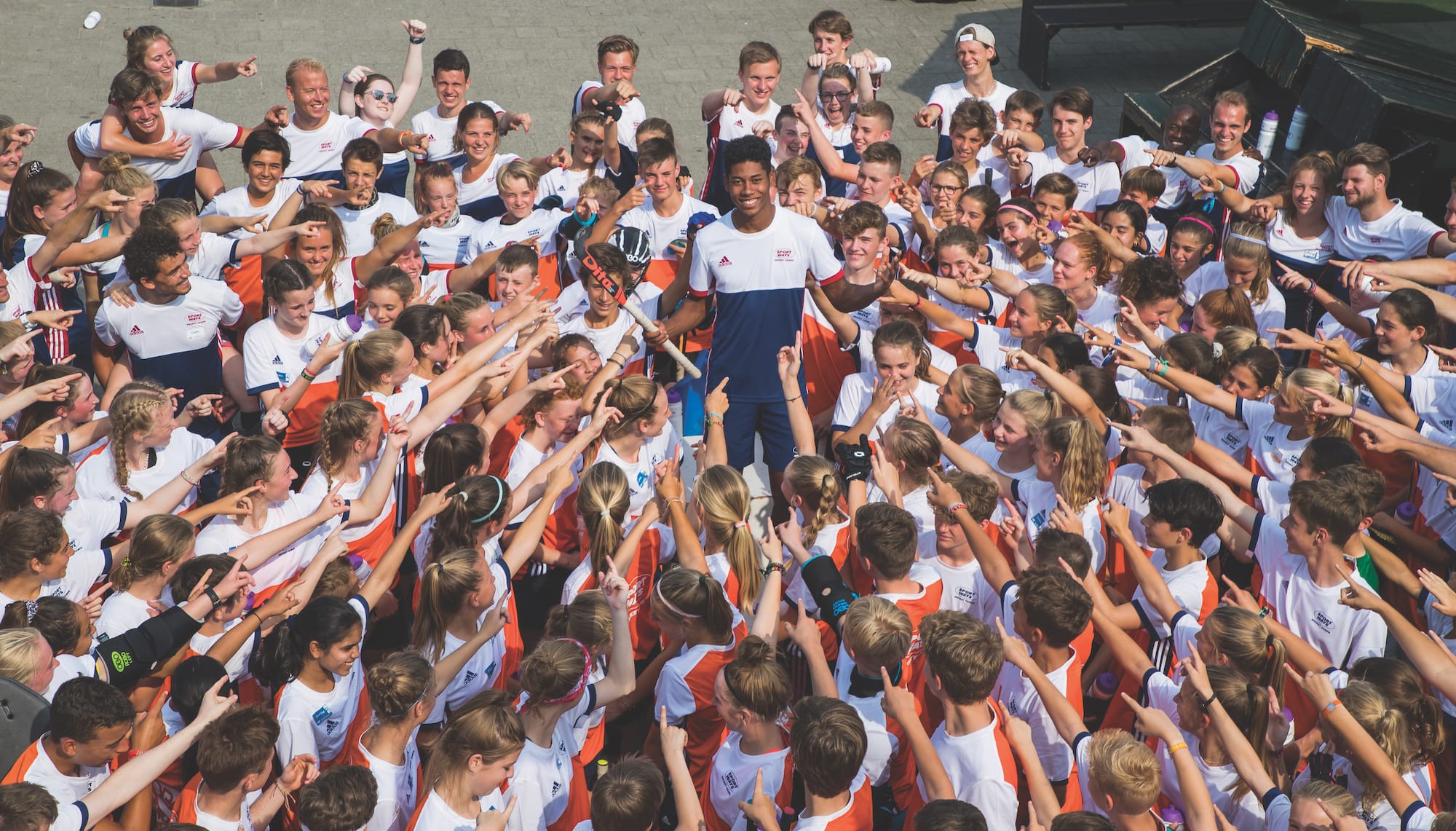 What is an overnight hockey camp?
At our overnight hockey camps, you'll dive into a world with hockey, hockey and more hockey for a full week. At all camps, you'll be on the pitch 5 hours per day. Brush up your hockey knowledge with clinics, demos, workshops, master classes and technical sessions, among other things. We fill the rest of the time with a fantastic social programme.
Our camps are known for their international, unique vibe. From all over the world, players, goalies and staff come to our overnight camps to have an unforgettable time.
Our Overnight Camps
All our overnight camps revolve around a full-on hockey experience. We offer different camp types, so there is always a camp that perfectly suits your age, level, and preferences. Which type of overnight camp suits you best?
More about our camps
Here you will find all the basic information you can find about our overnight camps. If you need extra information please find the Frequently Asked Questions on the bottom of this page.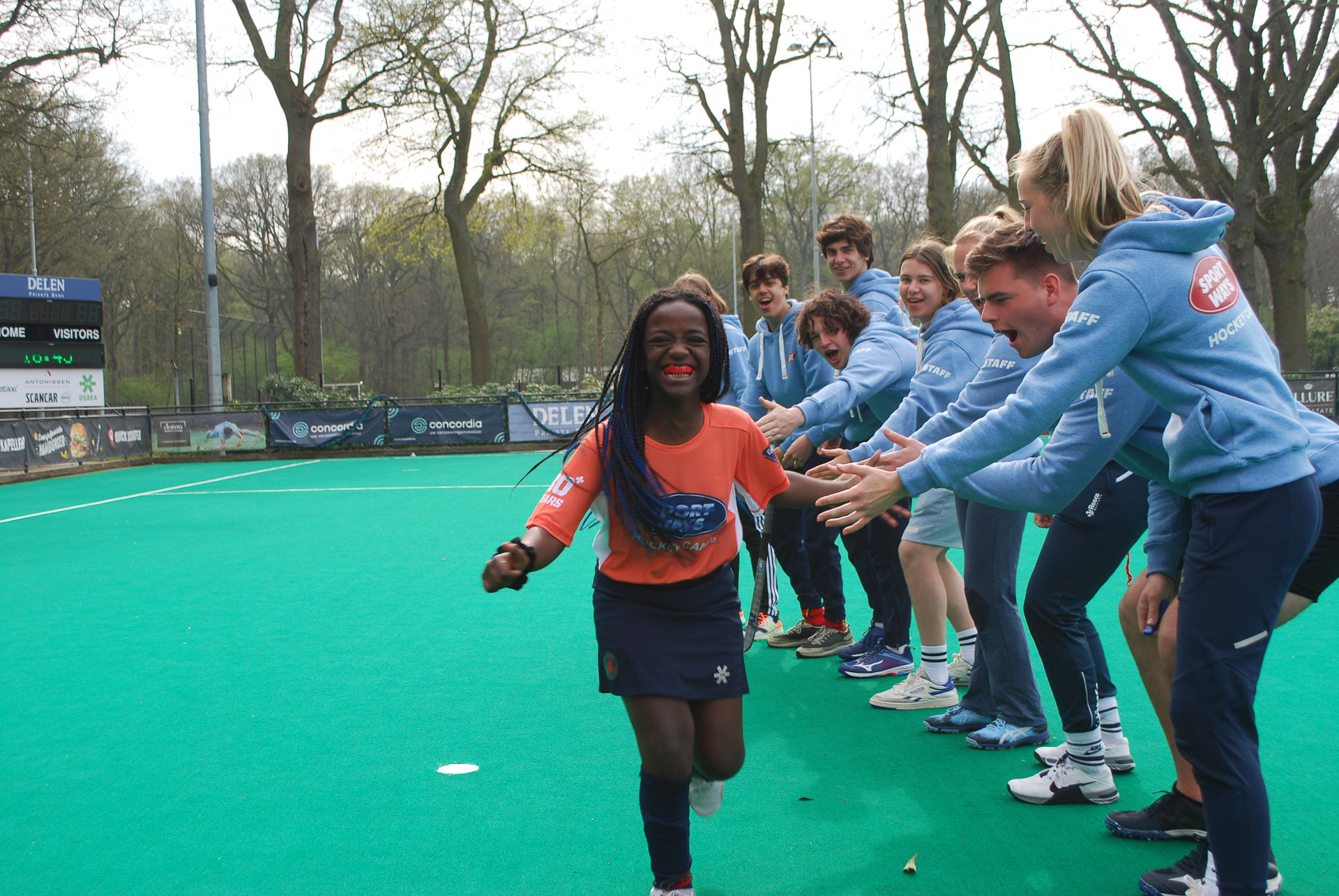 Safety
24/7 supervision
A priority at SportWays is providing a safe and pleasant environment for our participants and staff! Our entire staff and the person with final responsibility (key staff) are present at the camp 24/7. At the night, our 'night mayors' will watch over you, and are the go-to contact if you have any questions. Access to the camp locations is restricted and participants are not permitted to leave the site.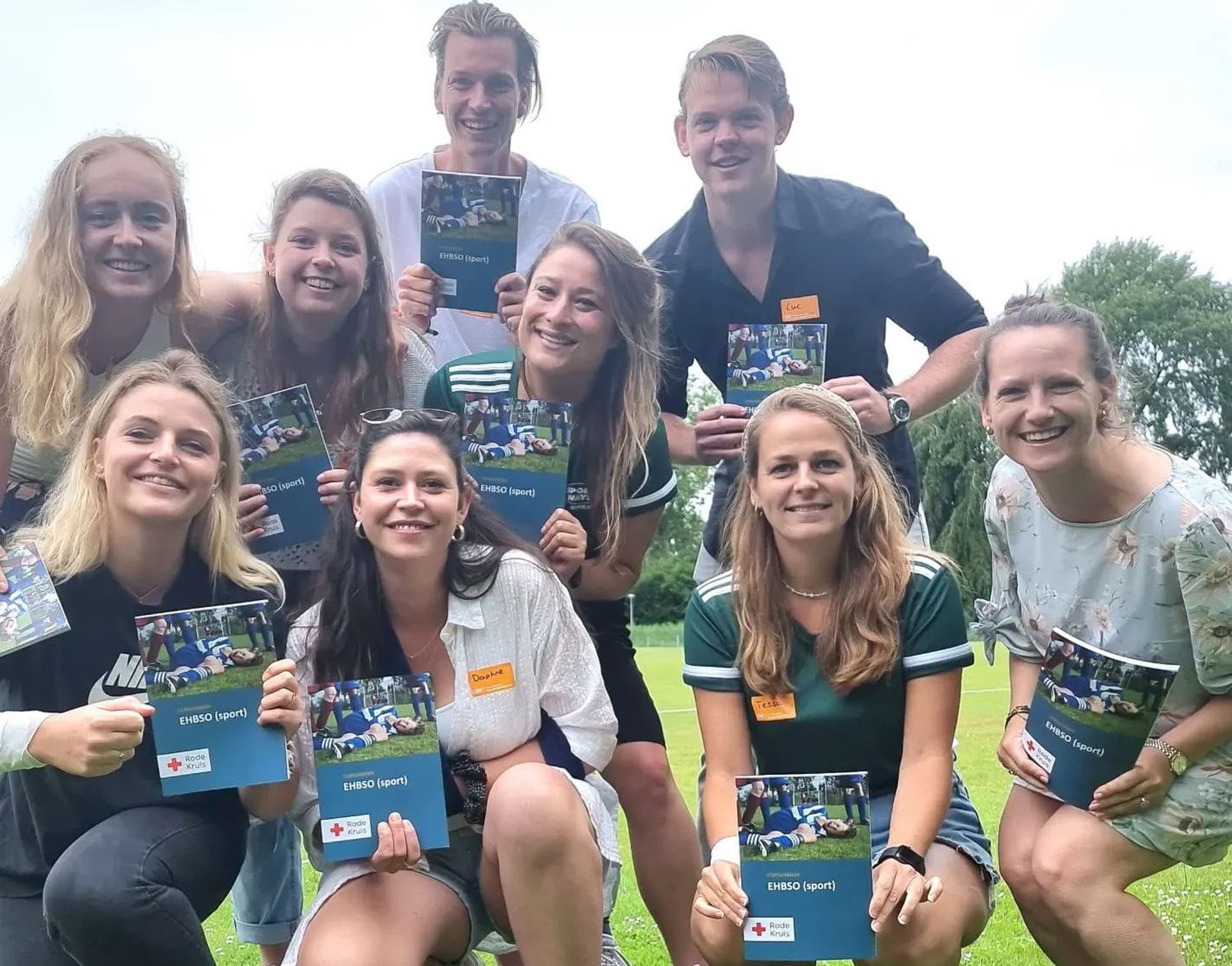 Safety
Medical care
If you use any medications or is there an allergy we should know about? The Supervisor of the camp is happy to help you out and is aware of all the important medical details. We will make sure there is at least one staff member with a First Aid certificate, so we know what to do when you have an accident or injury. We also have a cooperation with Sport Medical Centre Amsterdam. One of their physiotherapists will come by the camp with a daily consultation hour.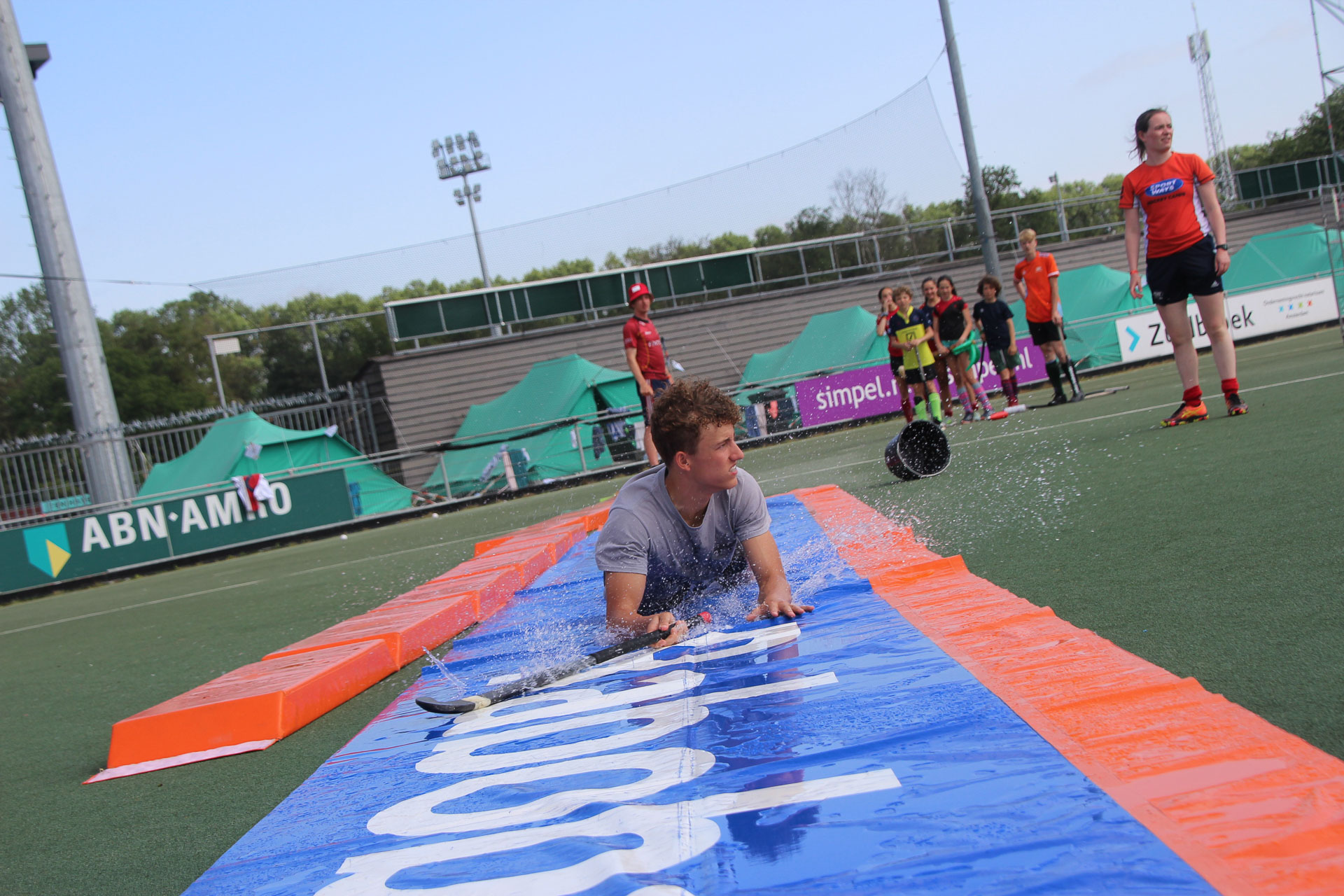 Location
Accommodation
AH&BC (Amstelveen, Netherlands) Our partner club AH&BC – better known as Hockeyclub Amsterdam – is situated at the heart of the wonderful wooded park called the Amsterdamse Bos. This club is the epicentre of Dutch hockey! The five hockey pitches – four of which are water-based pitches– will make all your hockey dreams come true! One of these pitches is in the Wagener Stadium, the venue for the World Championships 2022 and many other memorable, historic matches. This is also the club where the Dutch national team trains! Want to see more of the club? Visit the website of AH&BC.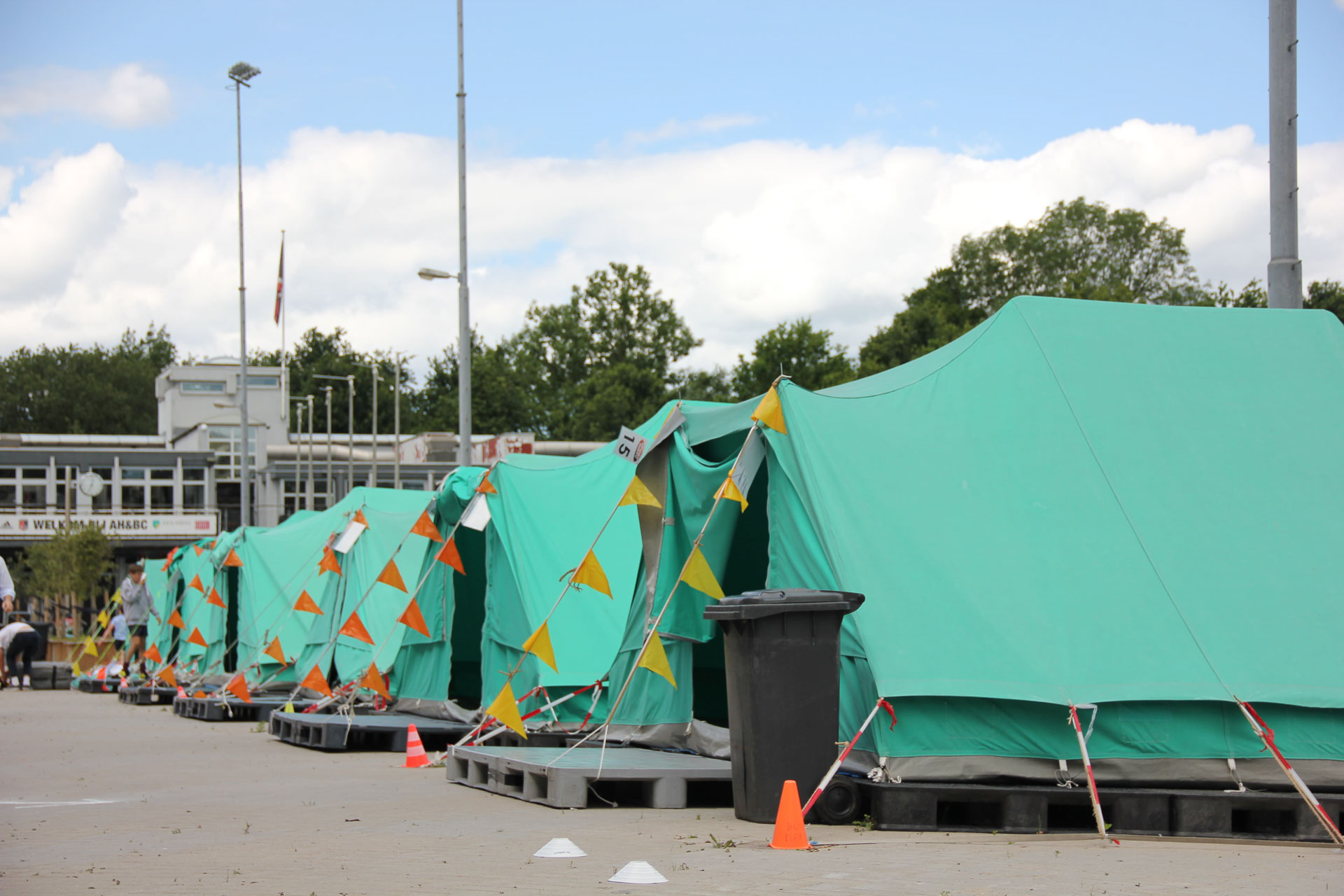 location
Sleeping accommodation
At our camps in the Netherlands and Belgium, you will sleep in a spacious but cosy tent. The tents are arranged around the pitches at the club. You can indicate who you would like to share the same tent with before the camp starts. We accommodate a maximum of nine people in one tent and, of course, also take the ages and languages spoken by the participants into account. Boys and girls are always accommodated separately. Each tent has two tent supervisors who act as your personal wake-up call in the morning and talk through all the ins and outs with you and your tent mates at the end of each day.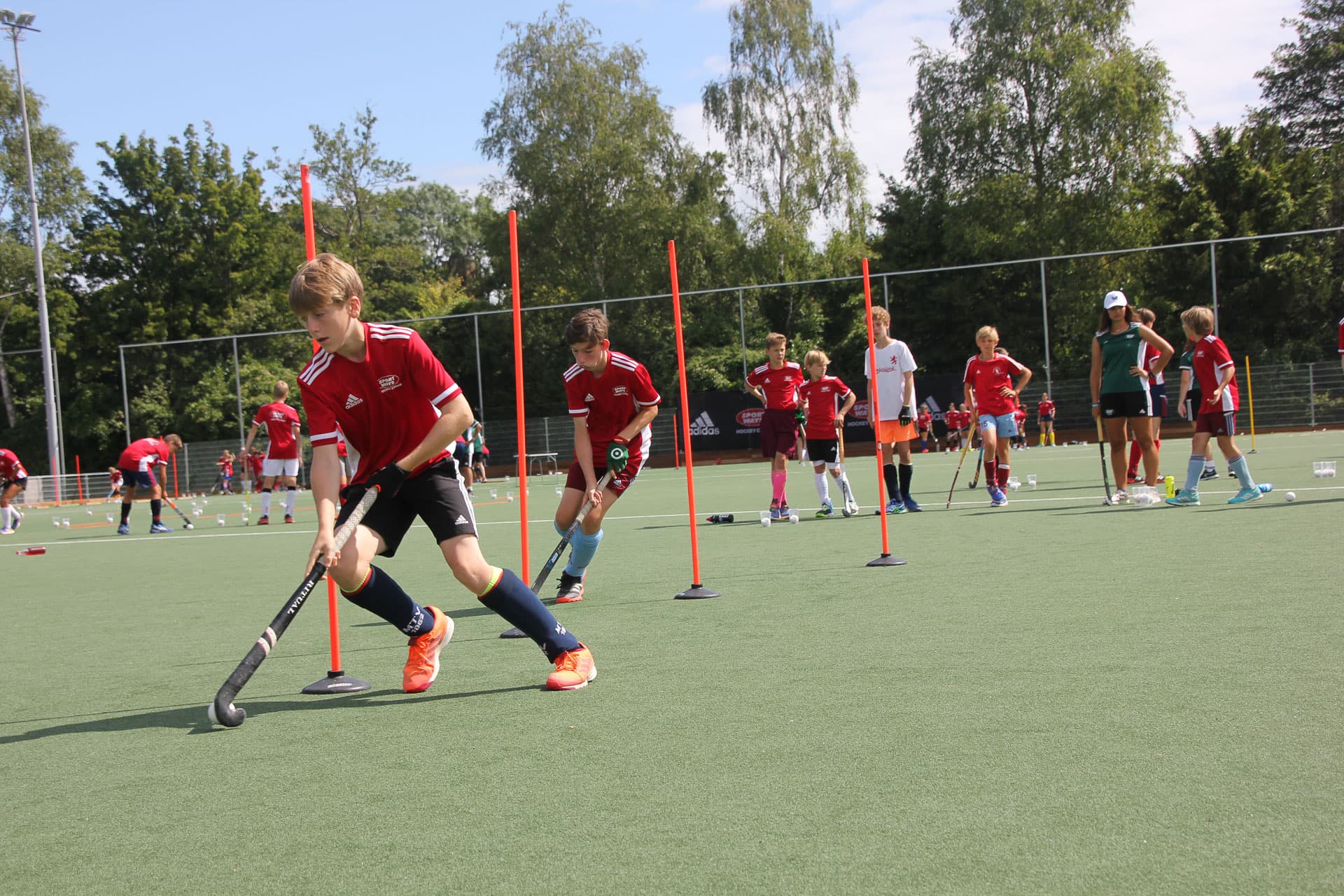 travel
Airport Service
Are you arriving at a SportWays camp by plane or train? We provide an Airport Service. Please book our Airport Service when you register for the camp of your choice. It is not necessary to state your flight details yet when booking. This service means we will wait for you in your arrivals hall at the airport. We will monitor your flight details continually so we are aware of any changes to your itinerary. Once you have arrived and come through the customs check, you will recognise our staff immediately in the arrivals hall; they will be wearing SportWays outfits and carrying SportWays flags. For futher information please click on this link.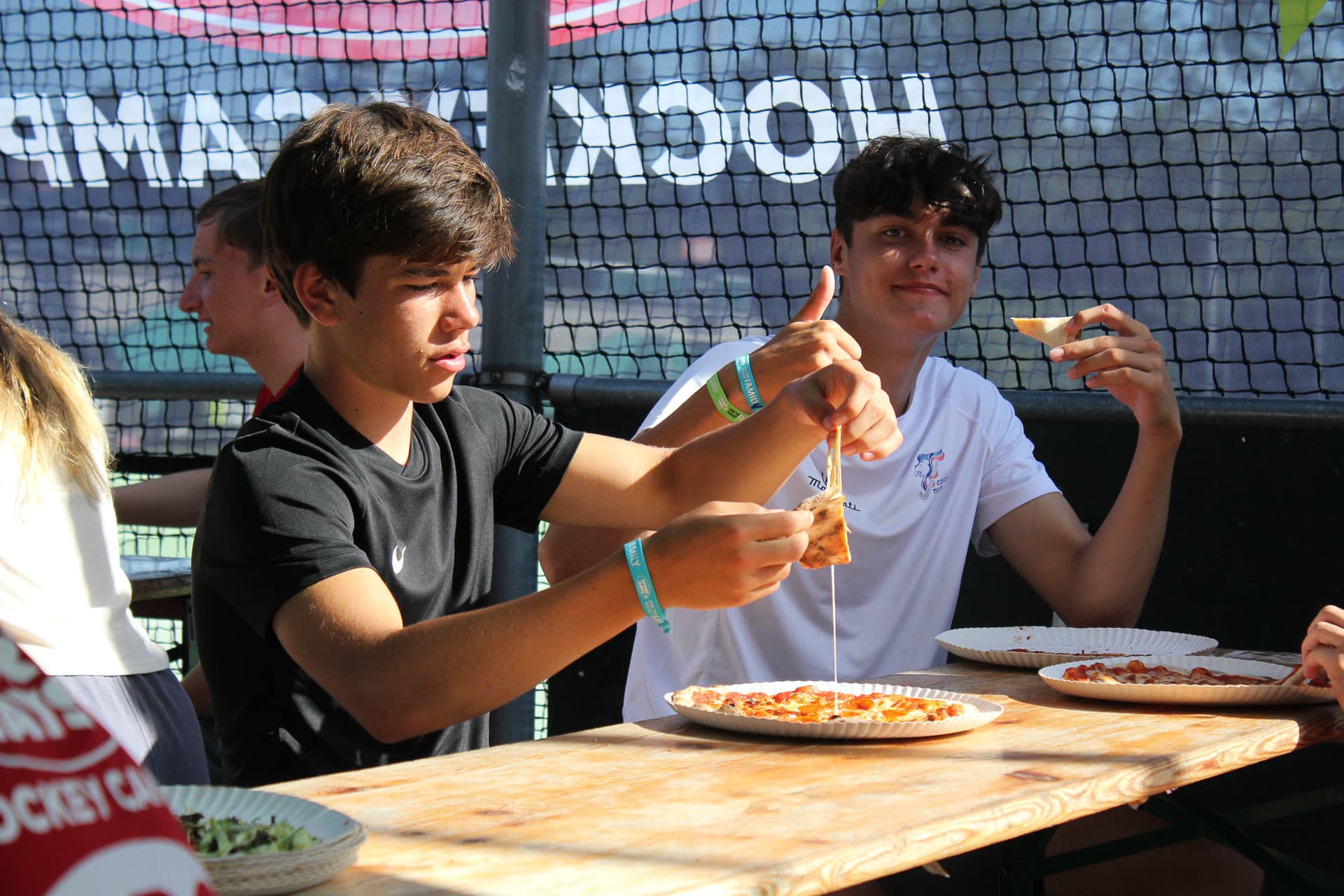 Food & Drinks
Perfect fuel for a day at camp
A SportWays hockey camp is an all-in week. We provide all meals and (healthy) snacks. We offer a wide choice at every meal and carefully consider the needs of the participants. After a hard day of full-on hockey, you need to recharge your energy! Breakfast and diner are served buffet style, with a choice of bread, yoghurt and muesli/cereals. And, of course, plenty of different spreads such as meat products, cheese, jam, sprinkles, chocolate spread, peanut butter, etc. Our lunch meals are warm dishes prepared by a catering service to guarantee good quality.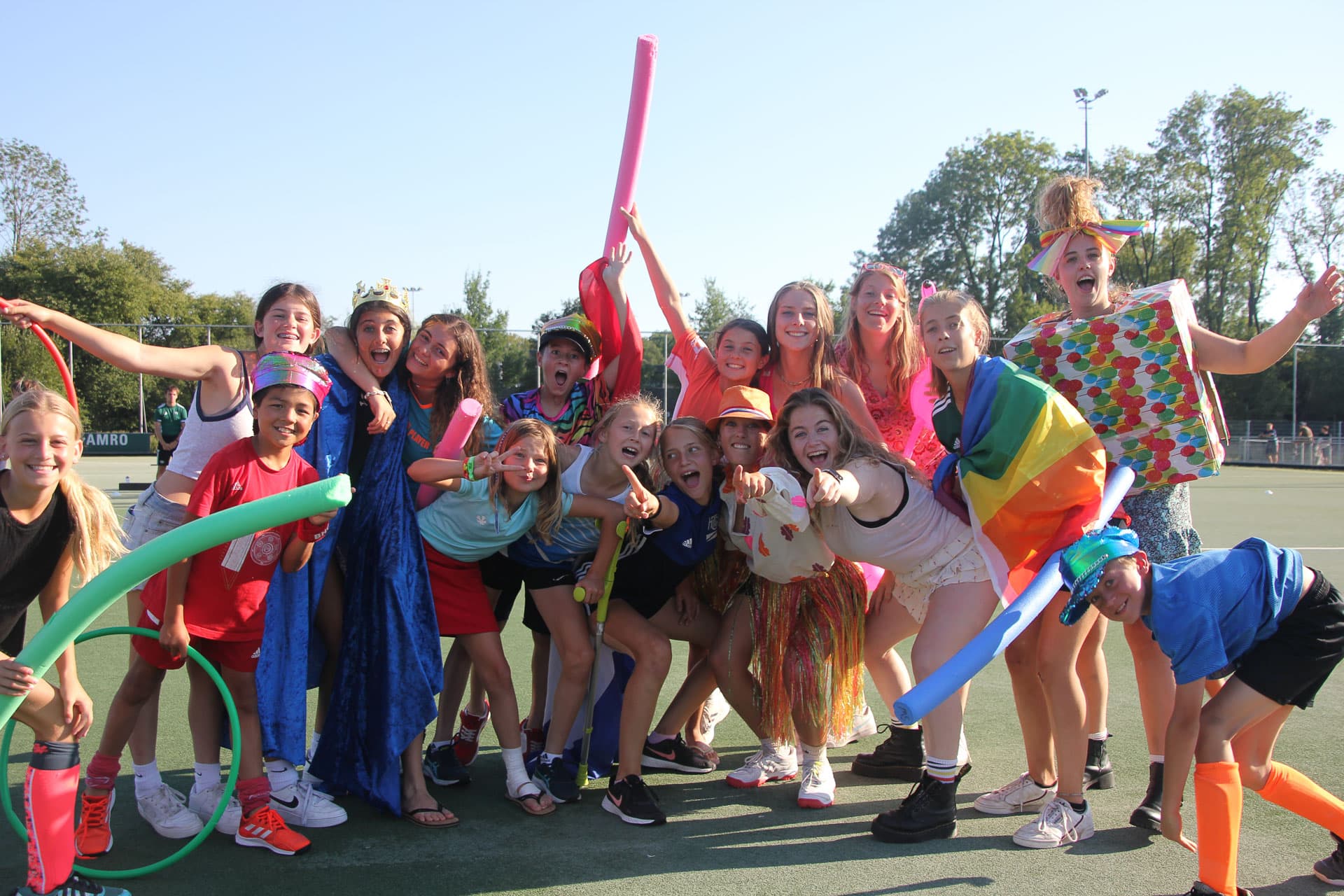 Social madness
What if we aren't playing hockey?
Our camps all have a unique theme, with a common theme running through the week. The Social Staff really go all the way for the parallel entertainment. These activities are organised in mixed groups so you get to know the other campers you play with or against during the day. Each type of overnight camp interprets the camp programme in a different way. We pull out all the stops at our Special Camps and in Antwerp and devise the most fantastic games to take the camp vibe to the max. The emphasis at our Top Camps, Elite Camps and Barcelona is more on serious hockey and the evening programmes feature workshops and training sessions, for example.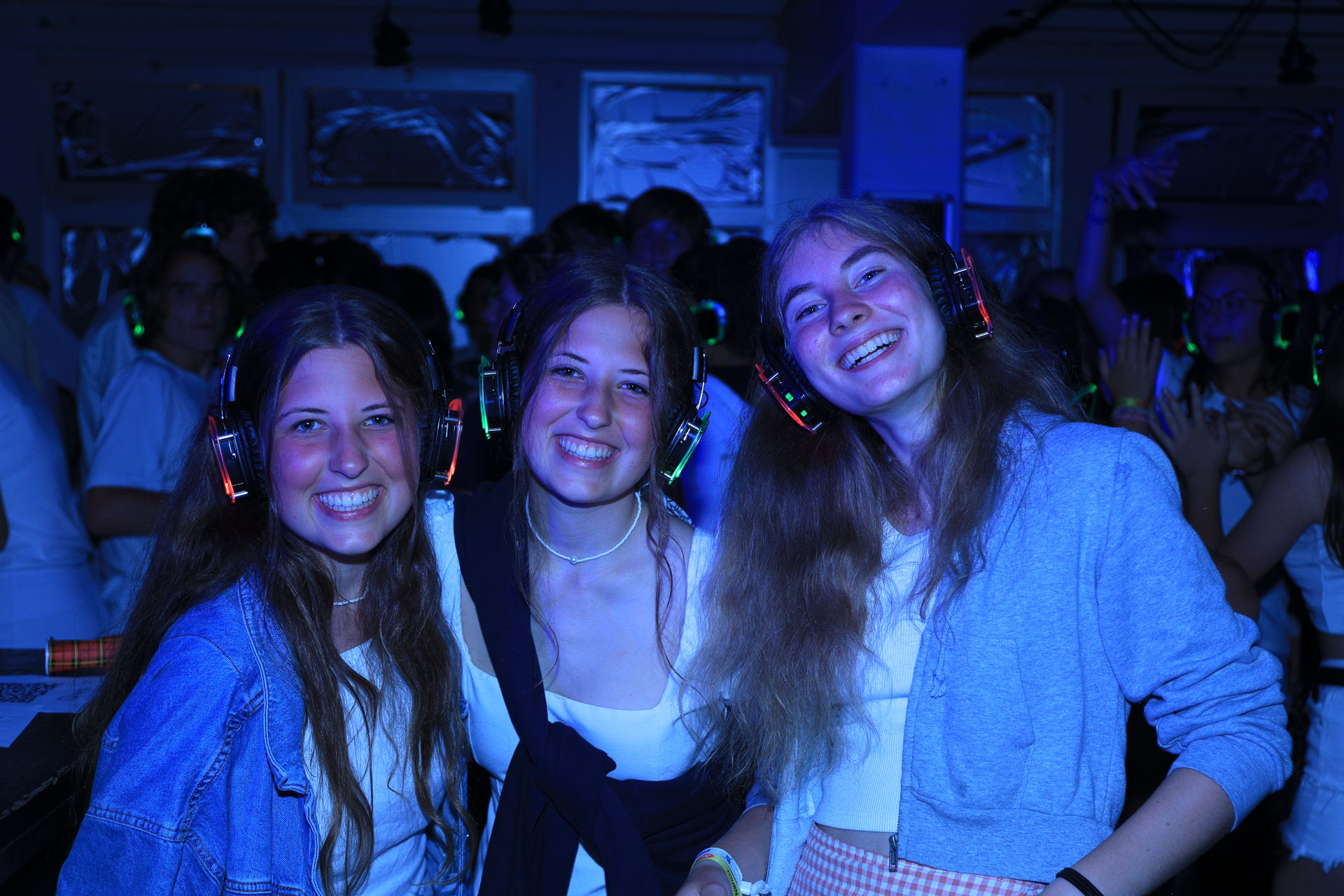 Social madness
An unforgettable week
Oh no. The day we all dread... "The last day of the camp... Tomorrow it's time to go home." It goes without saying that we plan to end the week in style. After the last whistle has blown in the final of the tournament and all the camp prizes have been awarded, you can look forward to a fantastic dinner. Everyone dresses up in his or her most spectacular outfit. The music starts and we can dance the night away one more time! Of course, to your favourite camp soundtrack... And during an Elite Hockey Camp, a real sports gala is organised - just like on TV!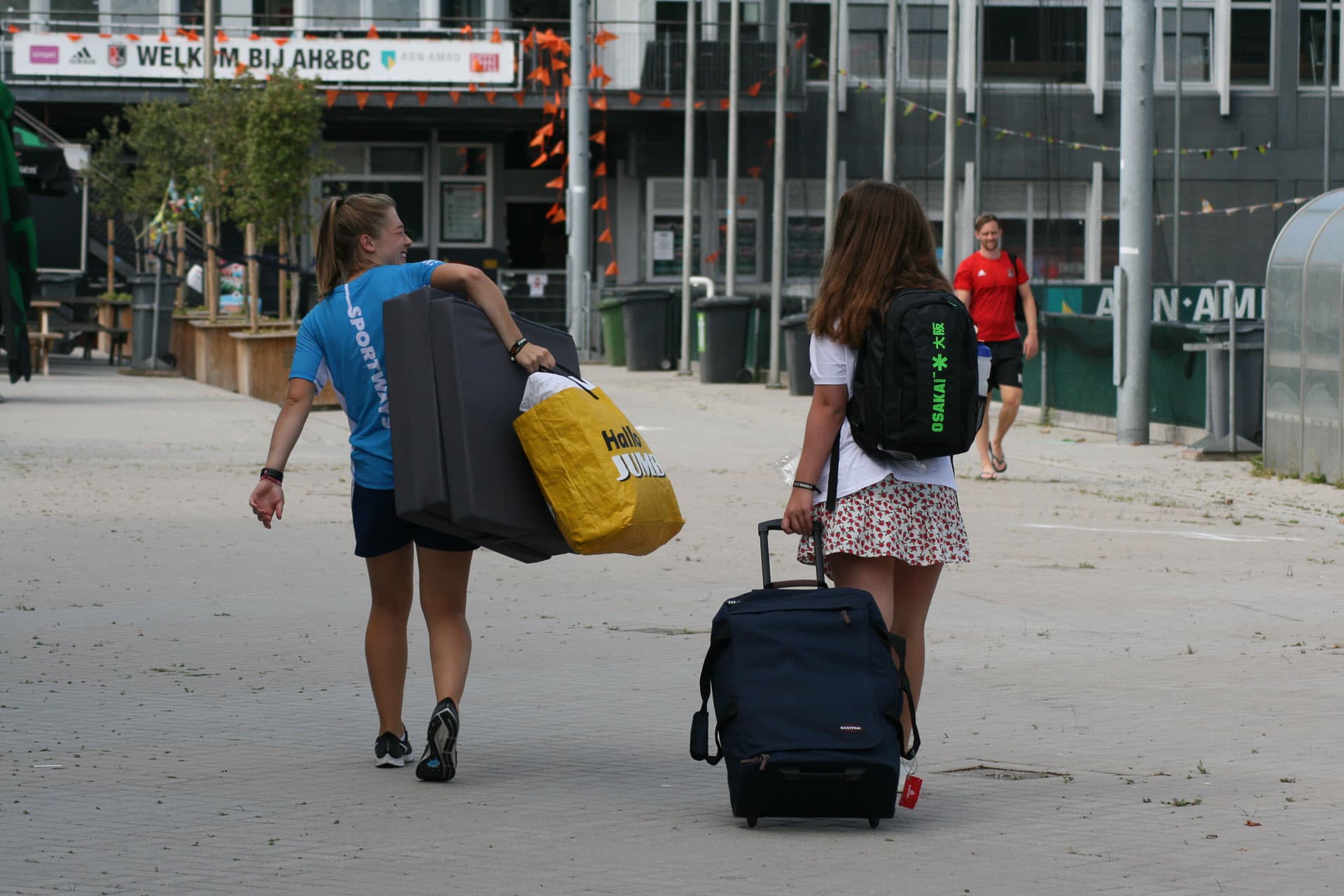 preparation
What should I pack?
The details of the packing list will be sent to you by e-mail no later than one month before the camp starts. Or if you really can't wait, click here. Make sure all your belongings are clearly marked with your name.

Make sure you don't forget the following:
- Insurance card
- Your identity document (passport)
- Good insurance coverage is required when participating in our camps. For European participants, it is obligatory to have a European Health Insurance Card. Your insurance company will be able to tell you more about it. If you are not a European citizen, you will need a travel insurance with sport coverage.